Roads are beginning to ice up here in good old Langhorne, Pennsylvania. It's not the time of year to go without a brake checkup. While some regard routine brake maintenance the way they do dentist work (as a necessary evil), others simply choose to ignore it altogether and hope for the best; that is, until warning signs appear. Neither approach is necessary or advised.
Perhaps some demystification is in order. Brake maintenance is necessary, but it isn't painful. Furthermore, the right maintenance can help save lives. If you are looking for good brake maintenance in Langhorne, PA, Fred Beans Hyundai of Langhorne is the place to go.
Why Fred Beans?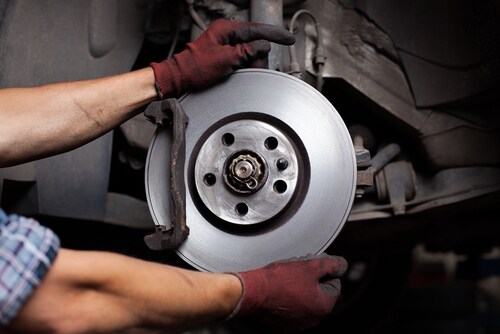 When you bring your car in for service, ask yourself what it is you look for in a service professional. Quality? Care? Integrity? What if we told you we are committed to those three things, plus much more, and has over 50 years of experience to prove it? State-of-the-art facilities welcome you with the ultimate in comfort should you choose to wait while service is performed. In their commitment to supporting local organizations, and as part of a true reciprocal relationship with members of the public who have supported them, our commitment to serving their local community is a true badge of integrity that they are proud to wear.
Brake Maintenance Basics
Your car's brakimg system is just that: a system. It's not just one part; it's a variety of parts all working together to perform a vital function for safe driving. Routine brake maintenance involves a thorough checkup of all of these parts.
When you take your car in for brake maintenance in Langhorne, PA, these are some of the areas our service professionals will cover:
Checking and replacing pads

- Brake pads are one of the most important parts of the braking system. They are the things that squeeze against the rotors in order to help stop the wheels when you brake. Because of the heavy friction and pressure on these parts, they can easily wear down over time.
Inspecting the rotors

- Take a look at the wheels. Can you peek through the hubcaps? If so, you are probably peeking at your brake rotors. Rotors should be relatively clean - as clean as car parts can get - and should be free of rust. Typically, rotors can last through three or four sets of brake pads. However, every car and driving situation is different. Stop-and-go traffic during rush hour will take its toll on brakes much more quickly than other situations. It's always best to consult with one of our service professionals to know just how often to replace your rotors. It's just another reason to make sure your vehicle is getting the care it needs.
Checking brake fluid

- It might be helpful to think of brake fluid as the lifeblood of your braking system. You want to make sure it is as healthy as it can be. Under some circumstances, air can leak into the brake fluid and cause your brakes to have a soft, spongy feel when you step on the pedal. Similarly, leaks in the brake line can cause fluid depletion. Neither scenario is good. Fluid levels should be checked regularly and maintained. It is also wise to change the fluid periodically, as it can become corrupted over time by heat and impurities.
Now that you know something about what routine brake maintenance in Langhorne, PA entails, isn't it about time you called the friendly service professionals at Fred Beans Hyundai of Langhorne? Your car will thank you for it. Call today to schedule an appointment.